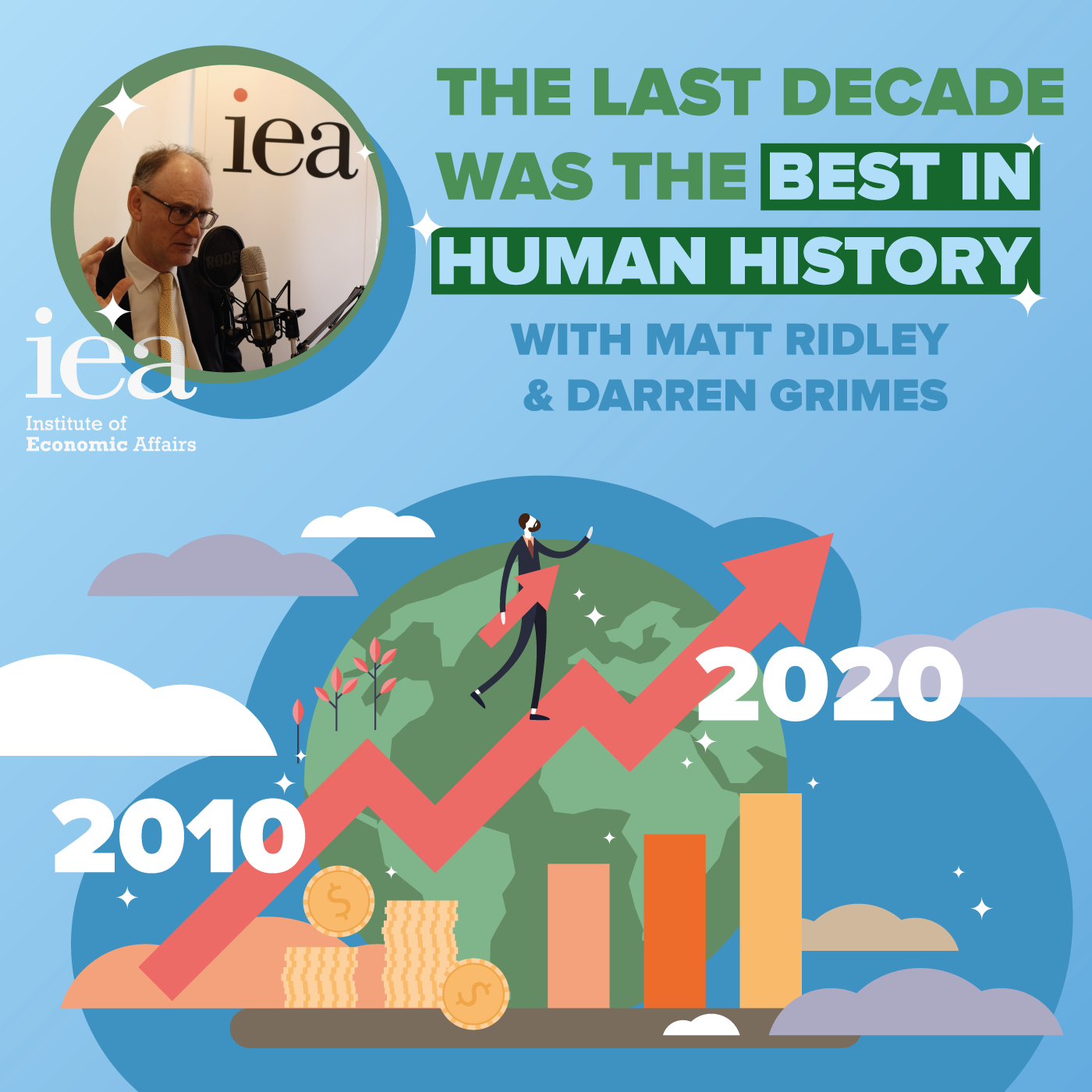 Everything is getting better. Let nobody tell you what the second decade of the 21st century has been bad! The astonishing feature of the United Kingdom's overbearing sense of gloom is that it is totally detached from measurable economic factors in the real world. Shouldn't we instead be in a celebratory mood, bursting with optimism and hope. Instead, we are the equivalent of fans of a football team on a wonderful run of form who seem permanently convinced that the next match will result in crushing defeat.
Of course, the doomsayers say that past results are no guarantee of future performance. They are technically correct in that assertion, of course, but the past does surely act as a reasonable guide and it is worth us being aware of just how fantastic the recent performance of humanity has been.
Today's guest on the IEA podcast, interviewed by the IEA's Digital Manager Darren Grimes, has recently argued that we are living through the greatest improvement in human living standards in history. Extreme poverty has fallen below 10 per cent of the world's population for the first time. It was 60 per cent when I was born. Global inequality has been plunging as Africa and Asia experience faster economic growth than Europe and North America; child mortality has fallen to record low levels; famine virtually went extinct; malaria, polio and heart disease are all in decline. The size of the world economy grew by over a third in the past decade and now stands at more than $86 trillion. If anything, this upward trend is showing signs of accelerating. World GDP can reasonably be expected to surpass $100 trillion before the next decade is out.
Matt Ridley's books have sold over a million copies, been translated into 31 languages and won several awards. His books include The Red Queen, The Origins of Virtue, Genome, Nature via Nurture, Francis Crick, The Rational Optimist and The Evolution of Everything. His TED talk "When Ideas Have Sex" has been viewed more than two million times. He writes a weekly column in The Times (London) and writes regularly for the Wall Street Journal.